There comes a period in the life of every couple when sex becomes boring. In this case, they need to diversify it. It is quite simple to do by changing the usual place for practicing sex. It is really important even for those who don't have problems with sex. Sometimes it is a banal lack of space for sex or a flood of passion and there is no choice but to choose a place for sex as soon as possible. The most unusual places strengthen sensations and desires. We have collected only a small part of the various places for having sex. It turns out that the imagination of people is simply limitless. But all the same it is not necessary to forget that sex is not an extreme kind of sports, and it is absolutely not obligatory to aspire to any records. The main thing that sex brings joy and pleasure!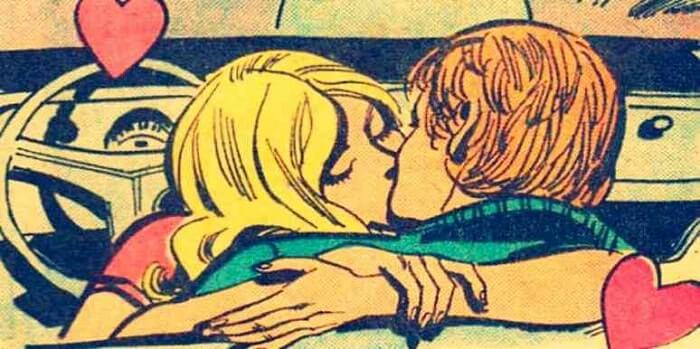 Places to have sex in your house: get creative
It may seem that there is nothing more banal and boring than to have sex at home! However, you are wrong: by the way, the apartment is not only one bedroom – there are a lot of nice corners. Most likely you didn't do anything interesting there...Well, you certainly didn't have sex! And you probably saw only the bed in the bedroom, and you never even thought that you can make love not only on it, but also near it, and under it. And by the way, why sex is bad in bed? Warm, soft, cozy, pleasant to the touch, resilient – why do sexual pleasures on our own bed are considered boring and banal. Maybe the reason is your approach to sex. However, of course, it is your business which of the corners of the apartment to choose for another sexual date. We will tell you some useful information, and you, in turn, strain all your rich imagination and apply the obtained information in practice with brilliance. Hope you both will be satisfied and will receive full satisfaction (in all senses of this word!).
Different places to have sex in your home
1. Balcony
The pros of sexual games on the balcony are obvious: on the one hand, you have a full feeling that everyone is looking at you, that there are many people around and life is boiling, but on the other hand, no one can understand what you are doing there. By the way, you can talk with passers-by, actively working with bodies. It also gives a good feeling!
2. Bath
A classic sexual game: a full bath, two bodies in it, an abundance of fragrant foam, gentle touches... It is very nice, especially with a new sexual partner.
3. Shower
This is one of the unusual places to have sex in your home. It is pleasant in all conditions. It can be used as foreplay to sex in any other place.
4. Armchair
This is a very nice idea. You can smoothly transfer a heart-to-heart conversation into a slightly different direction. And both of you will be satisfied. There is nothing super-original, but there are a lot of soulfulness and tenderness, and this is sometimes even better than the most daring sexual experiments!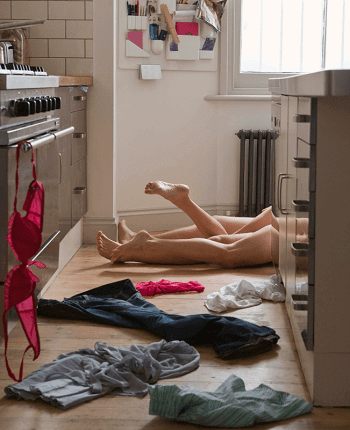 5. Bed
Yes, it seems banal for many. But you can lie down on it, stand, build a mountain of pillows on it, make a hut out of blankets and make love in original positions. In general, it is a nice idea!
6. Kitchen
It's good that you have a lot of pleasant auxiliary material there: cream, ice-cream, berries, and all that yummy, which can be spread or put on the partner's body and licked off.
7. Window-sill
This is one of the exciting places to have sex at home in summer. In winter, it is not recommended to do so. You can freeze off the most intimate parts of the body.
8. Washing machine
The charms of sex on the washing machine are undeniable: it vibrates and partners get extra pleasure. In addition, its big size allows you to change positions: for example, a woman sits on a washing machine and a man stands in front of her. You can scream and moan, even if your house is full of people – no one will hear it because of the noise of water and a working washing machine. It is strongly recommended trying to have sex on it because this one of the most unusual places to have sex at home.
9. Table
Well, when sex on the table is the result of an impulse, not a thorough preparation, then broken dishes (if this is a kitchen table) or scattered books and notebooks (if this is a living room) can't spoil your mood.
10. Garage
It's good for that you can smoothly change the locations: first, you make love on the floor of the garage, then on the roof of your car, then inside it. By the way, this is a very interesting idea. We sincerely recommend you to try it!
11. Stairwell
Reckless youth… Who didn't make love in the dark stairwell? Well, at least hug and kiss? It is very interesting to repeat this experience, and it can be done both in summer and in winter; you may feel like teenagers who have nowhere to meet. It excites and gives a lot of pleasant sensations, especially if the stairwell is poorly lit.
Public places to have sex: why not?
Sex becomes even better when it happens in the most unusual places. It will be immoral, dirty and, of course, unlawful, but it's worth it. Of course, we are talking about places that can be used by anyone: a train station, an airport, a restroom, a hospital, and so on. There may be a lot of people or no one. And yet even an uninhabited station remains a station, that is, a place where it is not appropriate to have sex. You shouldn't show your activity! But the realization of the fact that you are doing something "bad" with a loved one will excite both of you to the limit and promote your feelings. Just imagine how acute your pleasure will be.
The best public places to have sex
1. Airport
Any airport is one of the best public places to have sex. Usually, there are a lot of people. But at night or in the predawn hours, you have all the chances to fulfill your plans and not attract attention to yourself. It is enough not to shout and not to make sharp movements. And someone else's looks may only turn you on because everything is done for this, isn't it?
2. Sauna
If this is a mixed sauna, where both men and women are allowed, it will not be so difficult to seize the moment and place and have sex. The easiest way to do this is in a separate room for two. Saunas are considered the best places to have sex in public. Pleasure is deep: complete relaxation of the whole body and unwillingness to leave the warm room.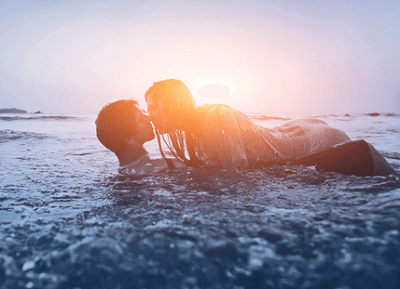 3. Hospital
It is really risky to have sex in a hospital bed: if you get caught by doctors or nurses, there will be a scandal. But, on the other hand, if you are in a hospital, you may even not have time for it! However, you can try.
4. Railway station
A railway station is considered not a good place for having sex! The main difficulty is that, as a rule, there are a lot of people (even at night): trains come literally every ten minutes, and there is nowhere to relax. Unless in a closet, but it is not the best variant. How to have sex in public places and particularly at a railway station? You can take a blanket with you, settle in a waiting room, cover yourself and your partner and have sex under it.
5. Marine station
This is one of the most convenient and great places to have sex in summer because there is no one at night and you have a wonderful opportunity to relax with your partner in some secluded corner and realize all your fantasies.
6. Dressing room
In fashion stores, there are dressing rooms where you can have sex with pleasure and comfort. You can even not pay any attention to visitors – they will not believe their ears anyway.
7. Abandoned buildings
You can find a hundred different places and places where you and your lover can have sex for your own pleasure. In fact, wherever you go in search of adventure, you can find buildings of different heights, widths, and configurations, and it is possible that some of these structures may be to your liking. People, who want to diversify their sex life, can do it just beyond the threshold of their own apartment and it's not necessary to go far. And yet the situation is quite unusual, tickling nerves. If you decide on a sexual experiment outside the walls of your home, first of all, you will have to choose the corner of the building that will be most suitable for you because each place has its own specific characteristics.
In choosing good places to have public sex, you should be guided by your own goals and attitudes because all people are different and don't want the same things: some love something "hot", others are bored with a double bed and they just need to be in unusual conditions to feel the passion, others dream of plunging into a reckless youth (with endless sex in a dark stairwell) and so on. As you can see, you need to know exactly what you want. However, who prevents you from personal experience to verify how a particular corner of the building suits you and your partner?
Kinky places to have sex: spice it up!
1. Water (sea, river, lake, pond)
These are very cool places to have sex: you stand in the water and have sex with your partner in front of the whole beach, and no one even says a word to you! However, be careful – in the heat of passion, it is very easy to lose some details of your swimsuit, and it may be difficult to go ashore without them. And one more detail: don't have sex in muddy and dirty water, so as not to catch any infection!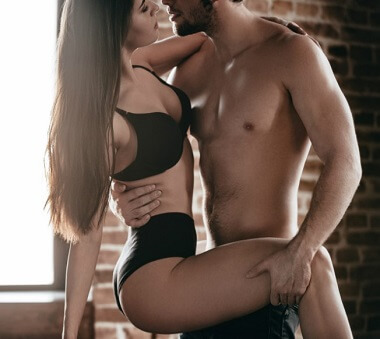 2. Mountains
If you are looking for weird places to have sex, then choose mountains. Of course, it's romantic to climb mountains, pitch a tent there, and make love in it with your loved one. But there is one big "but" (which consists of a lot of small ones!): imagine how much effort you will spend on climbing mountains, setting up a tent, looking for firewood for a fire, and cooking? If it is not a problem for you, then you will never forget such experience.
3. Party
If we are talking about the classic version of the party, you need to wait a little until it ends. Everyone will get so drunk that you can make love even on the dinner table with anyone. Party is one of the kinky places to have sex. However, it's unlikely that you will remember your original deed the next morning as you will be pretty drunk as well.
4. Stairs
It is very convenient to make love on the stairs to partners with a big difference in height: standing higher or lower a step or two, you can adjust this process. Your feelings will be strained to the limit because someone may appear on the stairs and interrupt your occupation at any time.
5. Train
Trains are the sexiest transports in the world and crazy places to have sex. You can take a separate compartment and love each other to the astonishment. The vibration of the wheels and unusual surroundings will enhance your excitement and give you a lot of new impressions. If you are together for a long time and your feelings for a partner fade, this is the best place for you! However, as practice shows, a separate compartment is a desirable condition, but not mandatory; many couples have sex almost in front of other passengers, covered with a sheet or in the toilet. People just can't cope with their excitement being in such a transport.
There are no comments. Be the first