New dating apps 2018: they can help you find nice people according to your Facebook, according to places where you hang out or have been at least once, and even according to things you both hate. Here are the best dating apps 2018 for you.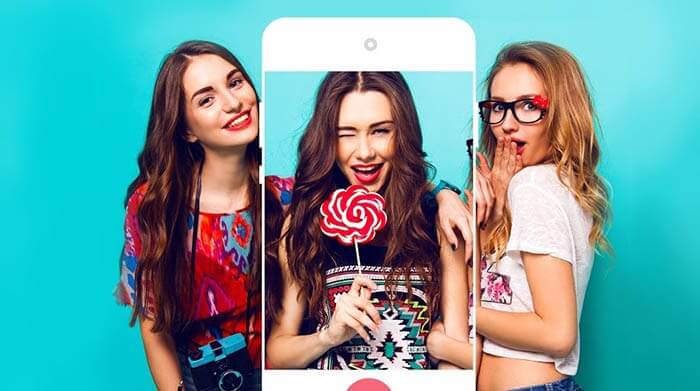 1. Hater
Hater comes first in our top dating apps 2018. The completely new application has become rather popular in short time. The developers used the principle that there is only one step from love to hate and this little line makes perfect matches. So here is the idea: the program looks for potential friends, not relying on what we love, but quite the contrary - on what we cannot stand. In general, "hate", as the basis for matchmaking, is no worse than any other: everybody wants to share how badly we hate long traffic lights sometimes, melted ice cream or lawn gnomes. Technically, Hater is not that different from other 2018 dating apps: you swipe down to hate, and swipe up to like. At the moment the program can offer about 2 thousand topics that can be hated. Among them you can find Donald Trump, marijuana, slow-moving people, butt selfies (seriously!) and much more. The comedian Brendan Alper is the author of the original design. The symbol of the application is a heart upside down.
2. Badoo
Badoo is a classic application for dating in 2018. However, the site is very laconic: what I mean is you will not find out what awaits you as user-to-be until you register. The major principle does not differ from old school dating sites: you fill out the questionnaire, upload a photo and start looking for a couple. Filters work according to your geolocation and interests. As often happens with free dating sites 2018, some options here are fee-based. However, the Badoo's offer is quite generous: it includes about 200 million people from 180 countries.
3. Pure
Roman Sidorenko's project is created specifically for sex-dating. Very concise and extremely honest application that does not require you to flirt with users, but lets you say straight, "You're attractive, insanely attractive, and it's about time we get to know each other."
Fill in your gender, the gender of your partner-to-be, upload the photo and wait until the system finds suitable options in 50 km around you. Pros: all users of the application are aware of why they need it, you do not have to register or log in through social networks. Pure claims that it does not store user data and the service is completely confidential. Maybe this is true, but it is always necessary to keep in mind your own safety. Another benefit is a great number of beautiful Russian girls using the app. The first week of using the application is free, and then you will have to pay about $30 for a monthly subscription.
4. Down
Down is another application with an option to find a partner for one-night stand. Actually, it is one of the best free dating apps 2018 in this category. However, it does not seek mysterious strangers for you, but includes a search among your friends on Facebook. The logic is simple: why going far, if the one you need can be one message away. Just mark people you like (they can be friends or friends of friends), and if they answer you in return, the app will tell you. The Daily Picks feature offers you three random friends of your friends on a daily basis.
5. Happn
Didier Rappaport, the creator of the application, the architectural critic, has been working in the digital industry for more than ten years. He considers Happn to be his best project. The service uses hypergeolocation technologies. It means that Happn shows you only those people, your paths have ever crossed with: maybe you use the same store near the house or flew to Bali by one plane, maybe you work together or bought a sandwich in the same coffee house. This way you do not need to appoint dates, it's enough to meet in the place both of you already know.
If you find someone you like, you press the heart. The application is great for residents of big cities. This is what users put in comments: if you do not live in a big city, it is very difficult to find a match.
6. Newpl
The author of this frank application is the Ukrainian sex evangelist Andrei Yaroshenko. The application, according to Andrew, is designed to help users find people with the same sexual fantasies: it can be threesomes, and homosexual relationships, and simple hookups.
The application is for courageous people and those who are not afraid of experiments. However, on the website Andrew suggests to keep in mind health and safety rules.
7. ParkFace
The application presents itself as a social network. ParkFace - the brainchild of the ParkSeason, a Russian portal about city parks. Thus, if you come to visit some Russian city and willing to find a local girl to spend time with, this app is for you. You can find a companion for a picnic here, someone to walk your dogs with, a couple for sports, jogging partner and lover. First, users select the gender and age of the potential fellow, and the program offers candidates who are nearby. The list of available cities includes Moscow, St. Petersburg, Sochi, Kazan, Novosibirsk, Nizhny Novgorod and Yekaterinburg.
8. Sapio
Sapiosexuals are those people who are attracted by highly intellectual people. The Sapio application is created especially for them. If Tinder seems a toy to you, then you should try Sapio. In order to start searching for a couple on Sapio, you need to answer 300 questions in detail. Starting form "What are you proud of?" too "If you were the supreme world leader, what laws would you enact?" questions. Serious approach, ha? If you are patient and you answer all 300 questions, you will choose the options based on the type of person, the level of intelligence and personal preferences. You can choose those you like, just like with Tinder.
We do not know if you will meet the love of life, but you will find an interesting companion. All in all, smart is the new sexy.
9. Taste buds
Cannot live without music? Tastebuds will help you find the one you will be able to share your favorite music. The application analyzes your music tastes based on information from Facebook and offers you those users you share the same tastes with. You can listen to favorite music of other users right in the application. However, Tastebuds is available only for IOS owners.
10. Double-Double
If you still do not trust online dating, then Double-Double is your story. The service is designed for double dates, so invite a girlfriend there right after registration.
Best dating websites 2018
Dating in real life has already become something more of a fantasy. A modern way of finding love is top dating sites 2018 and applications.
Firstly, it's convenient: thanks to them you can get acquainted anywhere, it is enough to have a smartphone with you. Even though new dating sites 2018, like romancecompass.com or yesdates.com, are no apps, you still can use their mobile versions, which makes it rather convenient.
Secondly, best online dating sites 2018 are fast - you can exclude unnecessary people in a couple of clicks. According to statistics, every second person uses the application or a free dating site 2018, like Jump4love.com, for online dating. There are a great number of happy stories about those who found soul mates online. According to our rating, the best dating site 2018 is romancecompass.com. However, the options are diverse.
My personal experience
Speaking about the Badoo service, which I am opening for myself for the first time today, I heard that it is almost the biggest dating app in the world. I was thinking about it, rubbing my hands, and filling in search terms. I was looking forward to start the hunt and see what the app can offer to me.
I'll start with a pleasant one: here you can write to a girl, even if she did not like you. It is enough that she visits your profile. So, even though your face did not look really pleasant or attractive to her at once, turn on your charms, sense of humor and woo her so that she agrees to meet you.
There are several search modes in the application: besides the usual "left-right" one, there is also a display of new users. However, you can write to them only if you acquire a superaccount (which is fee-based, of course). Another funny mode is twins. Let's say I like Alina Kabaeva, and I want to find a girl like her to feel like real ... well, you understand, the alpha male. I choose her photo, and the app shows me all the users who look like her. Unfortunately, sometimes the matches seem to be too distant (different distant countries).
Another important advantage of the Badoo is the option to use not only texts, but also video chats. If you think about it, it's very cool for this type of application. I have chatted in video mode - and it's a good thing to start with before a date: at least you know that the person is real.
When using Badoo, I did not feel the need to pay for any additional options: those paid functions are not really necessary, in my opinion. Yes, it would be cool to put your profile to the top or get the opportunity to communicate with new girls, but I have successfully met several users for personal communication even without it.
There are no comments. Be the first