The Internet allows any person to make a relatively quick acquaintance and enjoy communication, date women online, and spend an evening with an interesting person. Few people nowadays will be surprised at a beautiful photo – thanks to the variety of different programs on the Internet, you can make a real work of art, having partially or completely changed the appearance. What kind of photo should you post to guarantee a pleasant online dating? What photo will push a woman away without even giving you a chance to meet her in reality? Those who still don't know how to make a profile pic can use the tips below.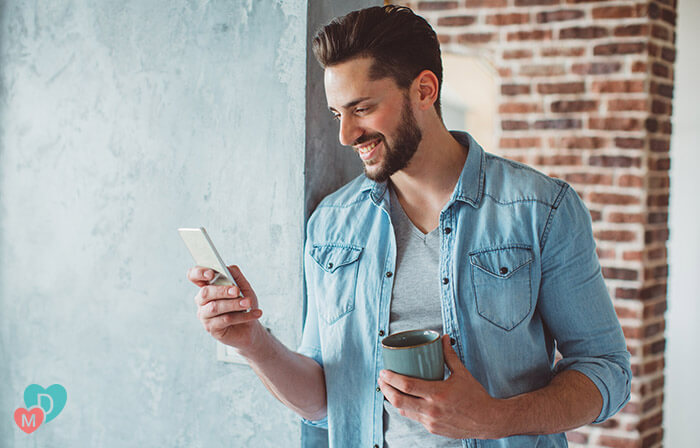 Key Elements of a Cool Profile Picture
Any man and woman dating site contains photos of its users. It is logical that to go on a date with you, a woman should find you first. Even on the Internet, people need to attract and arouse burning interest in them. What can you do to make your profile look winning and conquer a woman? It is enough to post several nice photos. But how to take a good profile picture?
Good quality camera
It is the 21st century, so forget about your photos of five years ago, scanned, black, white, and blurred ones. Women are interested only in high-quality photographs. Owners of the good quality camera will be able to get the best possible image quality. In the pictures taken with it, they can see all the details, the background, and the colors are transmitted as accurately as possible. If you want to make your photos more professional and use more interesting poses, you can use a photo tripod, which will fix the camera and allow you to use both hands for posing. This is the first tip on how to take a good dating profile picture.
Sincerity
Many of the vivid images of the photograph reflect the most sincere moments. Just because sincere photography is something personal. The picture becomes interesting only thanks to the emotions that it conveys. It can be emotions from the landscape or an exciting moment. Emotions are most often conveyed by people in the pictures. If the emotions of people in the photographs are sincere and genuine, then such good profile pictures create a sea of impressions. So, be sincere in the photos, and then the camera will be able to capture and convey the full depth of your feelings.
Positivity
A woman wants to meet a man who will warm and bring tenderness to her lonely life. A man with a sincere smile looks extremely friendly in the photo. There is nothing more beautiful in the world than this smile if it is sparkling with positive! The woman, of course, understands that it will be easy and fun in life with such a man. But even if you are handsome but have an arrogant look in the photo, then women will not have a desire to get to know you better. And this is not what you need, right?
Proper lighting
How to make a good profile picture? Not only the quality of the pictures but also your appearance depends on how well the lighting is selected for the photo shoot. Since the dark time of the day and twilight "consumes" most of the colors, daylight is considered ideal for photos. It doesn't even require additional equipment. But it is important to remember that the sun can cause flares in photographs. Therefore, if it is not possible to use natural light, you can resort to artificial light, which will help fill the shadows. The light source should be in front of you or on the sides.
Recentness
It is a bad idea to upload a photo, taken a decade ago, even if everyone around says that you haven't changed at all. The photo must be taken recently. If you are already 40 years old, then don't mislead women with your profile image that was taken 20 years ago. This is dishonest and will not bring you any bonuses, except for frank negativity from other users. Don't distort your self-image – upload fresh, relevant photos. Even a simple change of hairstyle can make a person unrecognizable. Let the profile picture reflect the way you look now.
Dating Profile Pictures: Main Things to Avoid
Filling out a profile on a dating site or in social networks, each of us, of course, hopes that it helps take a step towards the dream. However, days and weeks go by, but no woman pays attention to you. You are sure that you can charm anyone if necessary, but women just don't give you a chance! What is the reason? Most likely, the mistake lies in the wrong choice of profile photos. Several types of photos are not suitable.
Selfies
A close-up selfie taken carelessly from a bad angle is a bad idea. A man in such photos rarely looks nicely but thinks that he is the best. Actually, it is not so. Most male selfies and photos on dating sites are frankly unsuccessful. And they post such photos and continue to wonder why they are not answered. Also, women don't like selfies taken in the mirror in the shower. This reduces your chances by 40%.
Other people next to you (girls especially)
Photos with friends are categorically not suitable for profile photos. Firstly, women will immediately have to face a puzzle – where exactly are you in the photo? Only a rare bore agrees to solve this riddle, and a normal woman proceeds to the next profile. It can happen worse: a potential girlfriend will like your friend, not you. Do you want this? So, don't use pictures with colleagues, fellow students, or relatives for the site. Moreover, you need to remove any hints of the presence of different women in your life.
Sunglasses and headdress
Photos in glasses and headdresses are very popular among men when registering on dating sites. If you don't want to be recognized, then this is a psychological problem. Or are you embarrassed about something? Are you afraid of the conviction of friends that you are looking for a woman on a dating site? In general, stop thinking that they recognize you. You don't owe anything to anyone in this life, so immediately delete all the photos with glasses and headdresses. Such photos are absolutely losing and not interesting.
Naked torso
Psychologists who analyze the work of dating sites claim that women, contrary to popular belief, don't like too vulgar photographs. Even if you have a great body, keep a photo where you are without a T-shirt or in a bathing suit for a later stage when you move on to close communication. Such photos are not suitable as a good profile picture. With its help, you can attract only a certain category of women, but it is unlikely that they are your goal.
Standing back to the camera
Of course, photos, where you look at the sunset from the side and from afar, can be amazingly beautiful. But for online dating, they are not categorically suitable. Understand that the female population will have no other visual tool to know you, except for photographs. So, make it easier for them – show what you really are. Don't make women guess how you look. They will be grateful to you for this and will contact you.
Putting a stranger's/actor's photo
If you upload a photograph of an actor or a model as if it is you, you can face disappointment on the part of women. Too professional photos are suspicious. The woman on the other side of the screen also has the Internet and a search engine, and it is a matter of a couple of minutes to confirm the fears that you are fake.
How to Take a Good Profile Picture
A profile picture is the first thing women see when they visit your page. They probably don't know you, your interests, preferences, and outlooks on life. A responsible mission is assigned to the profile photo is to create a positive first impression.
Go outdoors and choose a location
Your photo should have some kind of story. The world is filled with natural frames, such as alleys, mountain ranges, trees, doorways, and even people! Thanks to them, you can get a nice profile photo. Besides, a photo on the beach, in the mountains, a restaurant or a club will tell about your hobbies. It will be immediately clear if you have something in common and whether it is worth starting an acquaintance at all.
Show your impeccable style
How to take a good profile picture? Be ready for the photographing process in advance, think over outfits, shoes, hair, be sure to find a professional photographer, and don't save money where a serious approach is important. You create not only photos for sites on the Internet, but you also create your future! Your new photo is the first step to change. Take a full-length photo to show yourself. Show women how you look, what kind of style you like, and so on.
Smile
This is the decoration of our faces, so don't be shy about it. If you think you look stupid with a smile, it means that you don't love yourself enough. Photos of smiling people attract more attention. Women consider such men open and cheerful. There is a desire to meet and recharge their love of life. But you need to be able to smile. If you have beautiful teeth, then a wide smile is good. Those who have problems with this should smile without showing teeth.
Don't forget about the elements in a background
An observant woman can draw a lot of conclusions by looking at a background that you don't even notice. Poor apartment decoration or your mess in the background will unlikely to add you points. Of course, without the skills of photographing, it is difficult to make a high-quality photograph in which the background looks attractive. Therefore, more and more men are posting pictures taken by a professional photographer in photo studios.
Make an accent on your face
It is advisable to look into the lens. At least one photo on a dating site should be with a look directed to the lens! The photo should be taken at close range so that your face is clearly visible. Even if you are standing on the background of the Eiffel tower, for profile photos, it is better to use a picture where women can see your face. This is how to take a good dating profile picture.
Play with lighting
The main thing is good lighting. No matter what is on the background, the photo will look great with soft lighting. The best place to find soft diffused light is in the shade under the open sky, when the light doesn't fall directly on you.
Show your pet in a photo if you have one
Do you have a pet? Or did you meet a very beautiful animal on the street? Then act! Animals can attract the attention of women very well. Photos with cats, dogs, parrots, rats, and other pets are the way to succeed. Most likely, seeing such cool profile pictures, women will write first just to get to know the name of your lovely pet.
Demonstrate your sporty lifestyle
Women like men who have a sporty lifestyle. When she sees a photo with a snowboard (actually in winter) or with a bike ride (summer version), it immediately becomes clear: it will be at least interesting and fun with this man! Here he is, a man who will share all her hobbies! In addition to this, if you exercise, you have a good body. And girls like when men look good.
Slightly improve your pic in a photo editor
Now photo editors are useful tools for improving pictures. The main thing here is not to overdo it with filters. So, making profile pictures, don't use filters to the maximum and don't go away from natural colors. Applications help correct the light, remove something, make the photo brighter, emphasize details, and bring photos to a single style.
Profile Picture Ideas
If you decide to find your love on the Internet, then you need to know a certain set of simple rules. Use these short tips to create interesting profile photos.
1. Get lost in the middle of the crowd. This is one of the best profile picture ideas. Whether it's a crowded street at rush hour or a shopping mall on a day off, a concert, competition or celebration of something – don't be afraid to be in the very center of the crowd.
2. Kittens are the key to success. Come up with a theme and take a series of photos with cats. Such photos will surely be successful!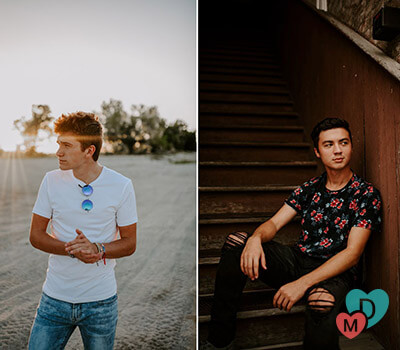 3. Play with a look. It's amazing how much the direction of view of the subject can affect the image. In most photos, the look of men is directed to the lens, and this creates a real sense of connection between them and women.
4. Have fun like in childhood. Ferris wheel, waltz boats, electric cars, road trains, catapult and, of course, cotton candy – all these attributes of amusement parks look great in photos!
5. Create a sincerity. Sometimes staged photos look "too" staged. Some people are not very good at taking pictures when posing, so it is better to relax and look natural.
6. Find dilapidated housing. Take a series of dating profile pictures at shabby buildings. They can seem strange however, buildings in the middle of the last century still have their own beauty.
7. Change perspective. Most portraits are shot at the eye level of the subject. Although this method is the most logical, a radical change in the angle of shooting will make your photo unexpected and original.
8. Meet the sunrises and sunsets. Autumn is the most suitable time of the year to meet sunrises and watch the sunset. The sky is painted in a wide variety of colors, and the mood inevitably becomes more romantic.
9. Use a simple and clear photo. Statistics tell us that it is best to take a portrait photo. This is the most successful photo format that attracts the most attention. More girls will visit your profile if they see a simple and clear photo.
10. Visit an exhibition or conference. Of course, not every autumn day pleases with excellent weather. On a rainy day, it's best to choose indoor photography ideas. For example, you can go to an exhibition or attend a conference.
On the Internet, everything is as in life. If you are sincere, cheerful, and playful, then you will certainly attract a lot of female attention, get compliments and invitations to meet in reality. And for that, it is necessary to post photos that will be able to reflect your inner happy state.
There are no comments. Be the first