The age difference between partners is no more something surprising. More and more couples are being together even though there's the age difference. You might know a lot of celebrities whose partners are much older than them, or maybe you have the acquaintance who dates a younger woman or older man. The fact is that it's absolutely natural, and if you take a look back to history and evolution, you will realize that women have always desired to be with a stronger, older man.
According to statistics, 56 % of women prefer older men. Meanwhile, 60 % of men answered that they like younger women. More than half of the people claimed that age difference has its' advantages. Many people have been arguing about the perfect age difference.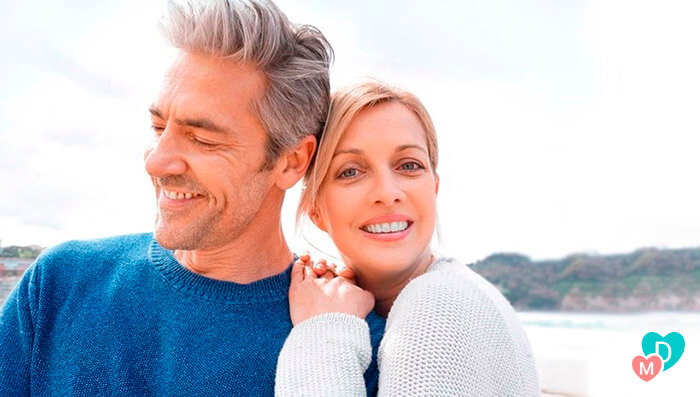 It was claimed that the perfect difference is 4-5 years. Is this true? Is there any perfect age? Let's try to find out. 4-6 years difference. Such an age gap has a lot of advantages. First of all, people in such relationships usually have similar interests and hobbies, the same way of thinking, sexual activity is approximately at the same level, both partners are more or less financially independent. What is more, a woman always feels safe and beautiful. Meanwhile, a man can realize his leader treats and feel stronger. Also, the probability of cheating in such a relationship is extremely low because of the younger age of a woman. As the young wife is beautiful, the husband adores her and is truly proud of himself. The interesting fact is that according to statistics, there is usually the biggest number of children in such couples and a very low probability of divorce in comparison with others.
8-12 years difference. It is also quite common in modern society. Mature men are way more experienced than their younger wives or girlfriends that's why they can easily solve any problem in the relationship. One more benefit in such a relationship is that a younger woman can rely on her older partner and feel comfortable and safe. Older men, as a rule, can provide their younger women with everything needed: both money and attention. What is more, they can look after women very well. They never forget to make compliments, open the door, make presents and surprises all the time. Older men are mature, so they know a lot about women at this stage and can easily impress everyone being polite and pleasant. Moreover, they are not afraid of becoming a father at this age, which can often happen in younger families.
More than 15 years. A long time ago couples with such age differences were a common thing. Still, nowadays people have different opinions on such a big difference. What you have to understand is that if there's real love, age doesn't matter. Still, you have to consider several advantages and disadvantages of this relationship. First of all, an older man is the perfect choice for a woman who wants financial stability. Also, women respect their older partners because of their intelligence and experience in life. They can tell a lot and teach many things. It is always interesting for women with older men as they are not typical young boys they have met before. Also, such men have serious intentions. On the other hand, the disadvantage is that people in this relationship have different interests and can often misunderstand each other. While younger women want to go out and have fun, older men prefer to stay at home at the weekend and have a calm family evening. Also, there may be problems with sex life and birth-giving.
Why Do Some Girls Look for Older Men? (and Vice Versa)
More and more young women seeking older men register on dating websites. What is the reason for their desire to date older men? Well, first of all, older men are responsible and self-confident, what women adore about men. Older men are more experienced and mature, they have already dated other women, which is a huge advantage. Older guys know how to treat women, make compliments and avoid arguments. Moreover, they know some secrets about how to get women's attention and how to make women fall in love with them. Women adore it when men are stronger and when it's possible to rely on someone. Going on, older men can provide women with a happy life with a stable financial situation and respect. Also, they are experienced in bed and can make women happy as well. They care not only about themselves but about women. Sometimes women are just fed up with young immature boys who don't know how to act and what to do. That's why older men have always been at the top of the list.
What about men? Why do guys like younger girls? There are also a couple of reasons for it. First of all, older men feel proud of themselves when they go out with younger women. They can even boast a little bit as they find it cool to get a younger girl. And it is because you have to be in good shape and look good to win a young woman's heart. Secondly, young women give older men the possibility to feel younger. When men date younger women, they try to keep fit, lead a healthy lifestyle because they just feel younger again. Relationships with younger women make them younger as well. What is more, when dating young women old men can satisfy their sexual desires again. Also, young women are not that experienced that's why they react genuine at the stories you tell them and surprises you make. Young women are just not used to regular presents, attention, and they are really happy to date real men.
The Benefits of Dating Young Women
Older men dating younger women are really lucky. There are many positive sides of dating a younger woman. Let's take a look at the list of them.
Youth. Never mind how old you are, you will feel younger with a young girlfriend near you. Scientists have proved that both physical and mental health is getting better when you date a younger woman. First of all, you start doing sport, gymnastics or visit the gym to look better and younger. Secondly, a younger woman gives you a lot of bright and positive emotions, and you start experiencing something new. Life is not that boring anymore, and you start trying new things with her, and you feel as if you are 20 again.
Self-esteem. The fact that you date a younger woman is very helpful when it goes about increasing self-esteem. Men start feeling more interesting, experienced and successful when dating a younger woman. Because of this fact, they feel that they can do anything: get a new job, take up a new kind of sport, fight old nightmares and realize all their goals and dreams. They also feel better because they are still able to get the attention of a young lady. This is a huge compliment for an older man, isn't it?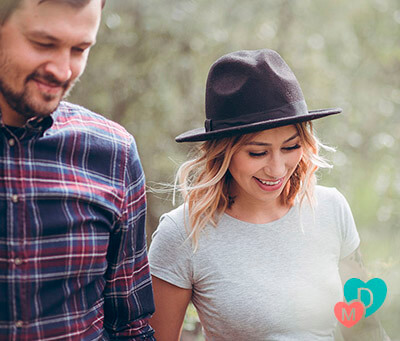 No past. When we talk about older men with younger women relationships, there aren't any problems with women's past. As a rule, they just haven't dated a lot of men that's why you won't have to deal with her jealous ex-husbands and problems from the dark past. What is more, a young woman is not experienced so she won't compare you with her ex-husband. If she dated some boys, you would look better in her eyes when she tries to compare you with young immature boys.
Active way of life. Young women like visiting different events, going out and meeting new people. It's a big benefit for older men who are used to sitting at home all the time. Dating a younger woman is a great possibility to try something new, travel to new places, get acquainted with younger people and get to know a lot of new and interesting information. Nevertheless, you are older, you can always learn a lot from a younger woman.
Challenges With Older Men Dating Younger Women
When you meet younger women, you don't think about possible difficulties in your relationships with them. Still, when deciding to date a younger woman, you have to consider possible problems. Here are the most widespread of them.
Different interests. If you have a big age difference, it is natural that you will have different ways of life and hobbies. She may be interested in going out on Friday when you are already fed up with it and want to spend the evening at home lying in bed and watching the film. There's nothing wrong with it, but there are always differences between people, especially if someone is older. It can become even more difficult when you find out that she doesn't want children yet while you are already ready for creating the family. You have to discuss such questions in advance.
Her family and friends. When dating a younger woman, you have to be ready that her family may be against your relationship at the first stage. There are different people, and sometimes they just don't get that age is just a number when it goes about love. Parents always wish the best for their children, so don't worry a lot if they don't like you at first. If you show that you're responsible and caring, they will become more pleasant to you. Talking about her friends, they can check if you are modern enough. It's OK when they "test" you, just relax. All in all, you date her, not her friends.
Being in her company. Sometimes you just don't feel comfortable in the company. Providing you are in the company of her friends, and you are the oldest there, you may feel embarrassed. Especially, when they talk about the things you don't get or you are not interested in. What you can do in this case is just to listen or tell about your experience. But don't start teaching them because they will feel the age difference even more.
How to Date Younger Women? 5 Tips for Older Men
Dating a woman who is younger than you is not the same as dating a peer. You have to be more attentive, patient and charming. Here are some tips on how to date a younger woman.
1. Get to know a woman better. Talk to her, check if you have something in common. In this case, even such things as the same taste in music or sport can make you closer. This will help you get closer to a woman and "break the ice" between you.
2. Don't be in a hurry. Try to be very patient because she may need more time. You may be the first older man she is going on a date with. Give her some time to get used to you and then ask her if she would like to go out with you.
3. Don't talk about sex. If you talk about intimate things on a first date, she will be afraid of you or think you are interested only in sex. Try to interest her, talk to her about TV-shows, culture, books, music. Ask her about her hobbies and preferences.
4. Don't become a daddy for her. It's a bad idea to give her advice about her life or teach her how to live. She will feel too young for you, and it will be not interesting to communicate with you. Choose topics that she may be interested in.
5. Don't pay attention to what other people say. They will express their opinion on your relationship, but you don't have to worry about it. You are the one to explain it to your younger woman because she may be even more worried than you.
How to Attract Younger Women
Providing you want to get young women's attention, you have to understand that you have to be confident. From the very beginning, women have always neglected insecure men, who weren't able to get their attention. The man must initially believe in his strength, and this will be transmitted to the woman. Firstly, every girl wants a strong and confident prince to take care of her, and secondly, instincts will awaken in her, which will suggest that a good future is guaranteed with such a person.
A sense of humor is also a very important trait for women. Every woman likes it when she can relax and enjoy the time with a man who can make a good laugh. It is always easier to get along with an easy-going person who can deal with problems.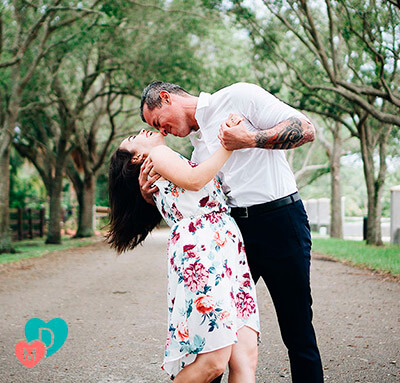 One more tip on how to how to attract a younger woman is to listen to what she says. Men are often just pleased to be with a girl they like, but they don't like listening to what women tell them. Do not miss her stories - there is a lot of interesting information that will be useful to you in the future. For example, places where she spends time, the name of her best friend, her favorite color, the young lady will be pleasantly surprised when you remember this. Supposing you listen to her, she feels special and falls in love with you.
Tips for Dating a Younger Woman
Surround her with your support and protection. One of the best tips for dating younger women is to make her feel safe. This is how women get used to men and fall in love with them. A constant feeling of comfort and protection is something that will make a younger woman feel special about you.
Behave like her chevalier. Nowadays women have to be strong, and they are not used to being treated as real princesses. Providing you show her good manners, behave like a real man and respect her, she will feel special.
Encourage her self-growth. It's out of necessity for young women to feel support when it goes about their ideas and development. They can dream about something but feel insecure about themselves. Supposing you show your girlfriend that you believe in her, she will realize her dreams and be thankful to you.
Learn new things from her. The fact that you are older doesn't mean there's nothing to learn from your girlfriend. She can become a source of inspiration to do something new in your life. Don't miss a chance to meet new people and experience new emotions with her.
Don't ignore the age gap. Although you can have a perfect relationship, there still can be differences in your interests. Don't avoid her wishes to do something that she's interested in, it is important for her. She can spend time with her friends and visit parties while you will be with your friends, that's normal.
Stay away from controlling her. The fact that you are together doesn't mean you have to control everything she's doing. She will hate the fact you are trying to track her. Don't be jealous as well because it can ruin the trust between you.
Let it all develop step by step. Don't rush when dating young women. For sure, you can be ready for a family and dream about marriage, but keep in mind that your girlfriend can be not ready for these serious steps. Give her time and let it develop.
Don't be a father for her. Setting the limits is the worst thing you can do when dating a younger woman. She is dating a man, not a father. Don't teach her and let her do what she wants to. She is an adult and can decide what is good and bad for her.
How to Meet Singles
If you dream about meeting younger women, but you don`t know where to find them, there are special dating websites where there are many younger women for older men. These women are all around the world, and they are single. Moreover, these are special younger woman older man dating sites, so providing you register on such websites, you will find someone special for you. Using these sites, you have access to the main information like photos, age, height, and interests. This is a very convenient and modern way to get acquainted with a younger woman.
If you hesitate whether it's worth dating a younger woman, try to consider all the possible advantages and disadvantages of this relationship. Think of the consequences and possible problems you can face. If you finally decide to date a younger woman, learn how to treat her and remember that the best way to meet your love is to do that online!
There are no comments. Be the first